National Men's Health Week – June 13-19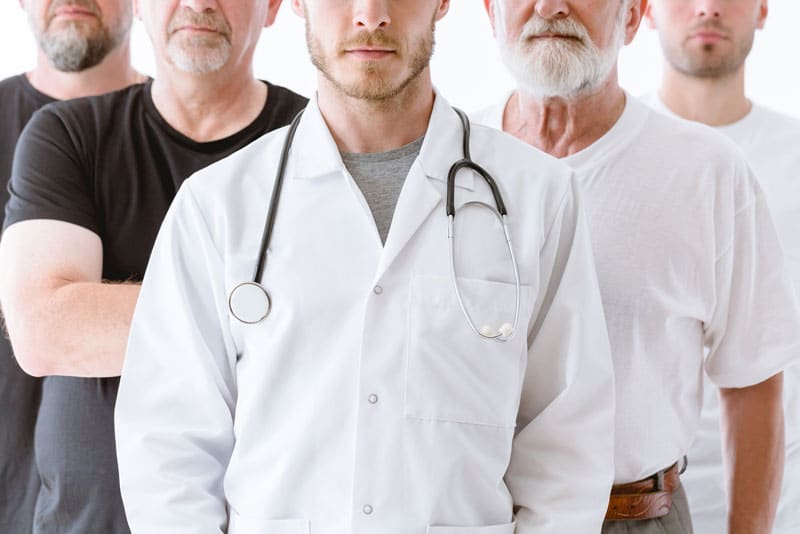 This week is a time to increase awareness of preventable health problems, promote early detection, and encourage treatment for medical conditions among men and boys
Why do we need an emphasis on men's health?
Studies show a significant difference in behaviors concerning health issues and treatment among men compared to women. These studies point out important issues that merit our attention.
According to the Centers for Disease Control and Prevention (CDC), the average lifespan for men is about five years less than for women. The following four factors contribute to this "gap."
The three leading causes of death for men are heart disease, cancer, and unintentional injuries. Men are almost twice as likely as women to die of a heart attack, and significantly more likely to die of various cancers than women.
Men are also less likely to undergo treatment for mental health conditions such as depression, resulting in nearly a 4x increased likelihood of committing suicide.
Men tend to be employed in more dangerous occupations than women, contributing to a greater risk of unintentional injuries. Examples of such occupations include mining, firefighting, and construction.
Men are less likely to have healthcare coverage than women. This leads to less use of healthcare resources, including doctor visits and other preventive care.
Moreover, men tend to be less aware of health concerns. Subsequently, they are less likely to seek help and talk with someone about such concerns. These tendencies can result in delayed diagnosis and treatment for a variety of conditions, some of which can be life-threatening.
Why do men avoid routine healthcare?
Statistics show that women are more likely to visit their doctor and follow medical advice for screening and preventive services than men.
A recent article in The Wall Street Journal called "Why Men Won't Go to the Doctor, and How to Change That," confirmed that compared to women, more men continue to avoid going to the doctor, skip recommended screenings, and engage in riskier behaviors.
Reasons most often cited by men for neglecting routine healthcare include "too busy," "too uncomfortable," and "afraid of finding out something bad."
Annual screenings and tests are some of the easiest and most important things men can do for their overall health, because when diseases are detected early, the conditions are usually easier to treat.
What can a primary care provider do for men?
Annual checkups and periodic visits allow primary care providers to help men with the following:
Prostate exam – The American Cancer Society recommends annual screenings to catch prostate cancer early when treatments are more effective.
Blood pressure screening – Men should have their systolic and diastolic pressure checked regularly to screen for pre-hypertension or high blood pressure, which is a leading cause of stroke and heart issues.
Testicular cancer exam – The American Cancer Society recommends all men have a testicular exam when they see a doctor for a routine physical.
Colorectal exam – Average adults (including women) should have colorectal screenings beginning at age 45, but men have a slightly higher risk of developing colon or rectal cancer than women.
Skin cancer screening – Men are three times more likely to get non-melanoma types of skin cancers than women, and older men are more likely than women of the same age to develop the deadly melanoma skin cancer.
Cholesterol level test – High cholesterol can lead to heart disease, stroke, and diabetes. Men need regular cholesterol testing beginning at age 35, though those with higher risk factors should start testing at age 20.
Diabetes test – Starting at age 45, healthy men should begin diabetes screenings every three years. Testing should start earlier if you have a higher risk, including high cholesterol or blood pressure. The U.S. Preventive Services Task Force recommends testing begin at age 35 for those who are overweight or obese.
Glaucoma test – Eye tests for glaucoma are based on age and personal risk, but the American Academy of Ophthalmology recommends the following guidance:

Men under the age of 40 should be tested every 5-10 years.
Men ages 40 to 54 should be tested every 1-3 years.
Men ages 55-64 should be tested every 1-2 years.
Men over the age of 65 should be tested every 6-12 months.

Preventive Vaccines – Most individuals typically receive basic childhood immunizations through the age of 18 years. However, the immunity provided by vaccines wanes over time, especially through adulthood. Talk to your healthcare provider or contact the MCHD regarding vaccines that may be recommended for you.
How can men take charge of their health?
Every man needs regular medical check-ups to support a long, healthy, and productive life. If you're ready to take charge of your health, we recommend the following steps:
Commit to healthy eating and becoming more active.
If you drink alcohol, drink only in moderation.
Quit smoking.
Know your family's health history.
See a doctor for regular medical checkups even if you feel healthy.
Get recommended screening tests to check for health problems before you have symptoms.
Make sure you're up to date on your vaccines.
If you have further questions or need assistance regarding men's health and illness prevention, please contact the MCHD at 217-728-4114.