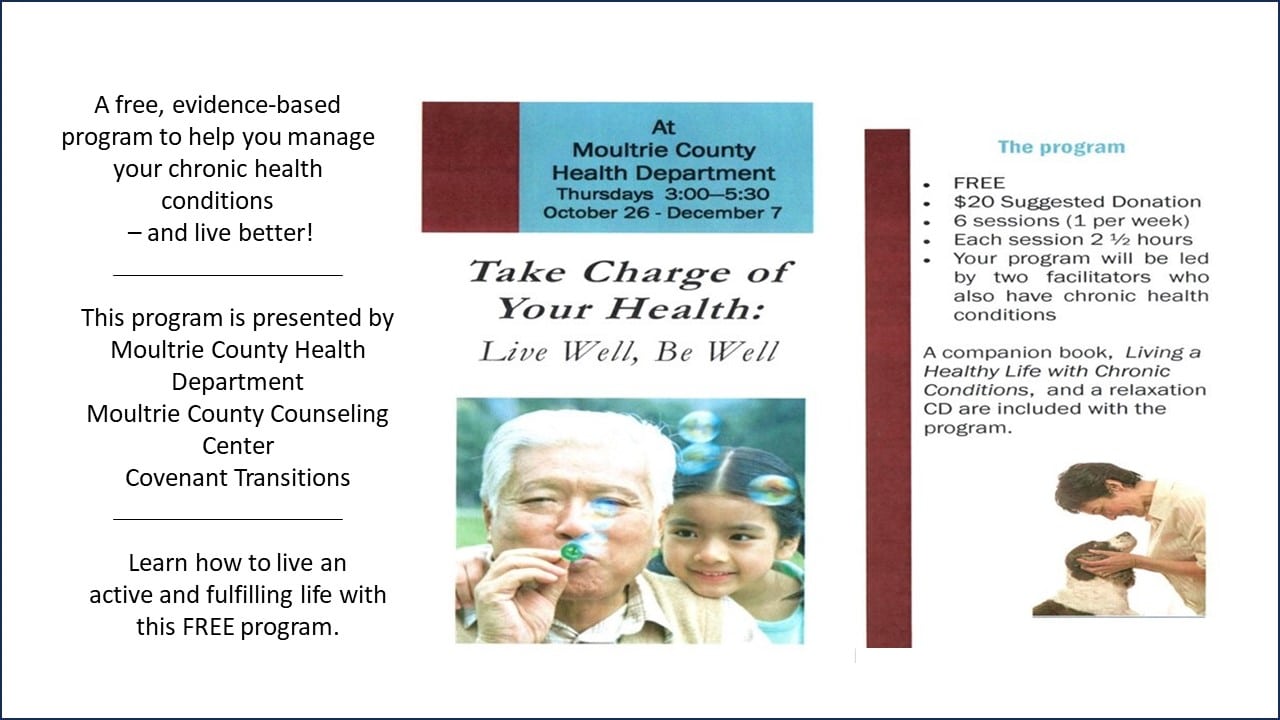 Take Charge of Your Health – Thursdays, Oct 26 – Dec 7
Thursdays, October 26 – December 7, 3:00 p.m. –  5:30 p.m.
Held at the Moultrie County Health Department, 202 S. Main, Sullivan, IL
Presented by Moultrie County Health Department, Moultrie County Counseling Center, and Covenant Transitions
Six sessions on Thursdays ending December 7.
Register Now: Sheila 217-725-6081
Take Charge of Your Health: Live Well, Be Well
How to Live a Healthy Life with Chronic Conditions
A free, evidence-based program to help you manage your chronic health conditions—and live better!
Learn how to live an active and fulfilling life with this FREE program.
FREE
$20 suggested donation
6 sessions (1 per week)
Each session is 2.5 hours
Your program will be led by two facilitators who also have chronic health conditions
A companion book, Living a Helathy Life with Chronic Conditions, and a relaxation CD are included
What You'll Learn
How to build a more effective relationship with your doctor.
Techniques for dealing with pain, frustration, isolation, and lack of energy.
Exploring an exercise routine that's right for you.
Communicating positively for better results with family and friends.
Tips for eating foods that satisfy and make you feel better.
Managing your medications.
Setting and achieving goals.
Effective problem-solving.
What You'll Gain
Research conducted at Stanford University's School of Medicine, Chronic Disease Self-Management Program showed that previous participants experienced fewer days in the hospital and fewer emergency room visits. They reported that they felt more in control of their lives. Energy levels increased and participants significantly improved their overall health status.
Who Should Attend
If you or someone you care for lives with a long-term health condition such as:
Arthritis
Heart Disease
Asthma
Lung Disease
Diabetes
Emphysema
Parkinson's
Other chronic conditions
Register Now: Sheila 217-725-6081
Moultrie County Health Department
202 S. Main, Sullivan, IL
More Upcoming Events