Staying Up to Date with COVID-19 Vaccines and Boosters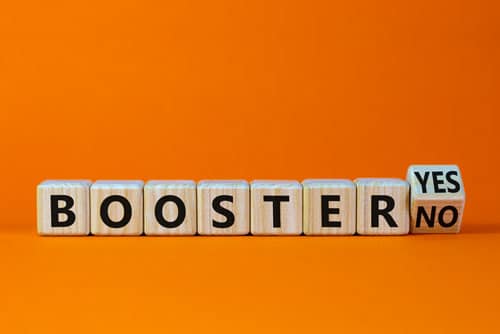 Covid-19 vaccines and the updated booster can help reduce the risk of serious illness from COVID-19 and the more recent Omicron subvariants.
Why do we need more information on COVID-19 vaccines and boosters?
Our experience with COVID-19 is not over. Thankfully, we are no longer in the grips of a pandemic that dominates our lives and livelihoods.
However, as new variants of the virus emerge, our risk of illness due to Covid-19 continues. In an effort to mitigate a resurgence of the virus, vaccines and boosters are being updated.
Healthcare professionals are working to limit the spread of the virus to the point that it will become a simple matter of routine prevention. Vaccines and updated boosters are one method of reducing our own risk of illness, which in turn will hopefully reduce the risk of transmitting the virus to others.
When are you up to date on your vaccines and boosters?
You are considered "up to date" with your COVID-19 vaccines if you have completed a COVID-19 vaccine primary series and received the most recent booster dose recommended for you by the Centers for Disease Control and Prevention (CDC).
Why get a COVID-19 vaccine or booster shot?
COVID-19 vaccines available in the U.S. effectively reduce the risk of serious illness due to COVID-19 infection.
As with other diseases, you can maximize your resistance to COVID-19 when you stay up to date with the recommended vaccines and boosters. Boosters can help restore protection that has diminished since a previous vaccination.
Moreover, the updated, or bivalent boosters, increase your immunity to the original COVID-19 strain and target the most recent Omicron subvariants, BA.4 and BA.5. These subvariants are considered to be more contagious than earlier strains of Omicron.
What do you need to know about these vaccines and boosters?
The CDC recommends that everyone stay up to date with COVID-19 vaccinations, including all primary series doses and updated boosters for their age group.
For most adults, the CDC recommends:
Complete a primary vaccination regime with one of the original vaccines, which may be a one-dose (Johnson & Johnson) or two-dose (Moderna or Pfizer) series.
Complete a booster vaccination with the new bivalent vaccine (a single dose) at least two months following your most recent COVID-19 vaccine, whether it was your last primary vaccination or a previous booster.
Please note that booster doses using the original COVID-19 vaccines are no longer recommended.
You also need to know the following:
COVID-19 vaccine and booster recommendations are based on age, the vaccine you first received, and the time since your last dose.
Current COVID-19 vaccine recommendations for individuals 17 and under differ from the recommendations for adults.
Getting a vaccine after you recover from COVID-19 infection can help reduce your risk of severe illness due to re-infection.
People who are moderately or severely immunocompromised have different recommendations for COVID-19 vaccines, including boosters.
COVID-19 vaccine and booster recommendations may be updated as the CDC continues to monitor the latest COVID-19 data.
How can you schedule a COVID-19 vaccine or booster appointment?
If you want to schedule an appointment for a COVID-19 vaccine or booster, you can immediately schedule an appointment online with the Moultrie County Health Department (MCHD).
Click here if you would like to schedule an appointment for a Moderna vaccine (first or second vaccine in the primary series, or an updated bivalent booster.)
If you cannot schedule your appointment online or need other assistance with scheduling, please contact the MCHD at (217) 728-4114 during regular business hours.
Do you have more questions?
You may have additional questions concerning your eligibility for a COVID-19 vaccine or booster. If so, we encourage you to contact your healthcare provider, but you are also welcome to contact the MCHD at (217) 728-4114.