Children and Food Choking: A Preventable Hazard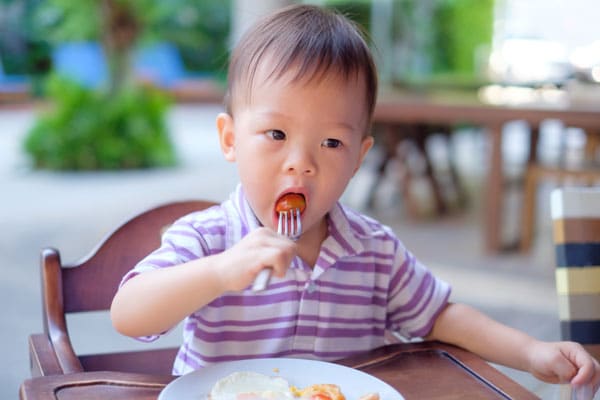 How can we safeguard our children against a leading cause of injury and death among those four years old and younger?
How hazardous is food choking among younger children?
The most common cause of nonfatal choking in young children is food. Recent statistics indicate that 12,000 children are taken to a hospital emergency room each year with injuries from food choking. Sadly, a child dies from these incidents every five days in the U.S.
Why is food choking such a risk for children?
Infants and children under 4 years of age are particularly prone to choking on their food.
Children under age two don't have a full set of teeth. As a result, they may be unable to chew their food properly before swallowing.
Children between 3 and 4 years of age have molar teeth. However, their higher activity level may put them at greater risk of accidentally inhaling food if they are playing or distracted while eating.
Which foods are most hazardous for children?
Research shows hot dogs are the leading cause of food-related choking in children 3 and under.
Hot dogs are not safe finger foods for babies. If your toddler likes hot dogs, cut them lengthwise and horizontally so the pieces resemble thin quarter-moons or half-moons.
Other foods to avoid for children under the age of 4 include stringy foods like celery or string beans, whole grapes, raw carrots, hard or sticky candy, nuts, and popcorn. Commercial white bread products can also be hazardous if it becomes a "pasty glob" in the child's mouth.
What is the best way to prepare and serve food for young children?
Proper food preparation is critical to good nutrition and safety for young children. Their food should be cooked and served in a size, shape, and texture appropriate for their development.
Food served to children under one year of age should be soft, moist, and easily mashed or dissolved. Avoid giving young children pieces of food that are disk-shaped, too firm, or too large for them to manage in their mouth. Additional tips for improving food safety in young children include:
Feed your child foods in the appropriate amount and texture for their stage of growth and development.
Avoid foods that are too large for their mouth size, hard to chew, or difficult to swallow.
Cook or steam hard food, like carrots, until it is soft enough to pierce with a fork easily.
Remove seeds, pits, and tough skins/peels from fruits and vegetables.
Finely chop foods into thin slices, small pieces, or strips (no longer than ½ inch.) You can also grate, mash, or puree foods that can be managed with a spoon.
For older infants and young children learning to feed themselves, offer only a few pieces of food at a time.
Remove all fish, chicken, and meat bones before cooking or serving.
Cut meat and poultry across the grain into tiny fingertip-sized pieces. Tough meats and poultry should be ground up or avoided.
How can you improve mealtime safety?
Children need to be supervised by adults during meals. Consider the following to improve mealtime safety with your children:
Don't leave children alone while they are eating.
Teach children to sit still and upright during meals.
Place infants in a suitable carrier where they will be upright.
Sit your toddler upright in a highchair.
Don't hurry your child when eating—allow plenty of time for meals.
Discourage eating and talking at the same time.
Teach children never to run with food in their mouths.
Make sure your child has something to drink with their meals, and that they chew and swallow their food before drinking.
Practice good mealtime safety habits and manners with your children. Show your children how to eat safely by avoiding other activities like watching TV or playing games while dining.
Learn the Heimlich maneuver, CPR, and first aid for choking.
If your infant or young child seems to have frequent episodes of gagging or choking on food, seek medical attention. Some health conditions can cause difficulty swallowing. A medical evaluation may be necessary to rule out other risk factors or causes for these events.
Choking on food is a preventable accident.
You can lessen your child's risk of food choking by being aware of the food your child consumes, supervising them at mealtimes, and knowing CPR and first aid to assist in emergencies.
The American Red Cross and American Heart Association offer CPR and first aid courses for the general public.
The Moultrie County Health Department offers maternal and child health services, including WIC and Family Case Management programs. These services assist in addressing the nutrition, health care, and other special needs of children under age 5.