National Poison Prevention Week: March 20-26, 2022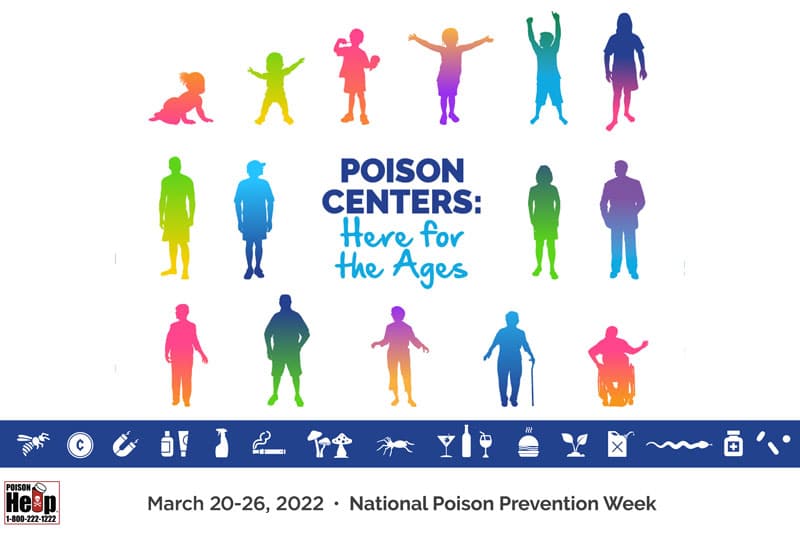 Information and awareness are the keys to protecting you and your family's health and safety from unintentional poisoning.
What is National Poison Prevention Week?
National Poison Prevention Week is observed the third week of March every year. Congress established the observance in 1961 to highlight the risks of being poisoned by household products.
Although we've made substantial progress since the early 1970s, over 2 million poisonings are reported in the U.S. every year. What may surprise you is that over 90% of these occur in the home, and those affected most often are children under the age of 12.
Sadly, over 300 children require treatment in an emergency department every day, with an average of two deaths per day. Most of these incidents involve highly toxic household items. This week, we want to provide you with the information necessary to protect yourself and your family from these hazards.
Why does this matter to you?
Take a look underneath your kitchen sink or laundry room. You'll likely find a lot of potentially dangerous items. Such items include household cleaning agents, prescription medications, and pesticides. These and others can be hazardous to the health and well-being of our families and even our pets.
National Poison Prevention Week helps raise awareness of the toxic substances in our homes, the precautions we need to take, and who to contact (24/7) for expert help if an unintentional poisoning occurs.
Facts related to National Poison Prevention Week
According to the CDC, unintentional poisonings now surpass motor vehicle crashes as the leading cause of accidental deaths.
The Consumer Product Safety Commission (CPSC) reports that about 30 children die annually from being poisoned by everyday household items.
They also report that accidental poisonings account for more than 2 million calls to U.S. poison control centers, and more than 80,000 visits to emergency rooms each year.
National Poison Prevention Week has contributed to an 80 percent reduction in poison-related deaths since the early 1970s.
Poison centers are available by phone to help and support when poisonings occur.
We encourage you to call the Illinois Poison Center at 1-800-222-1222 immediately if you think someone suffers from exposure to any potentially harmful substance or poison. These experts are available to help you (24/7) with these incidents.