Keep Your Fourth of July Celebration Safe: Five Poison Prevention Tips for Families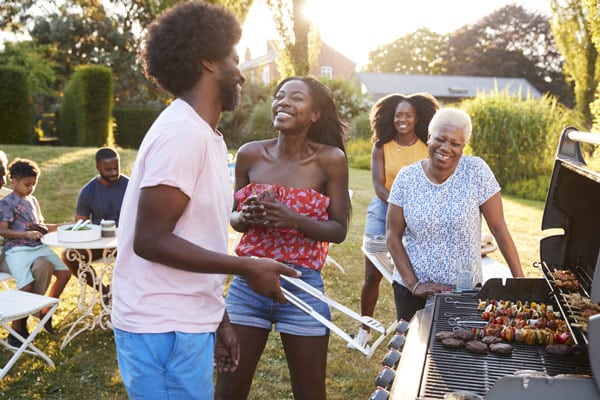 The MCHD is reprinting the following article from the Illinois Poison Center (IPC). It concerns poison safety tips for the 4th of July holiday. We express our gratitude to the IPC for its contribution and commitment to promoting family safety and well-being. Click here to view the original post.
Keep Your Fourth of July Celebration Safe: Five Poison Prevention Tips for Families
From the sizzle of barbecues to the colorful explosions in the night sky, the Fourth of July holiday is filled with excitement and joy. As you gear up to celebrate Independence Day with family and friends, it's important to be mindful of potential poisoning hazards that can occur. IPC is sharing some of the most common or dangerous poisonings reported on this holiday weekend. By following a few simple tips, your entire family can enjoy a happy and healthy Independence Day.
Fuel for BBQs and Tiki Torches (Hydrocarbons):
Hydrocarbon products such as charcoal lighter fluid and tiki torch fuel are incredibly dangerous if inhaled into the lungs. Children who drink these hydrocarbon products from the container (or another vessel such as a cup) and inhale them may need to be admitted to a hospital intensive care unit due to severe lung injury. In rare cases, breathing chemicals into the lungs is fatal. To keep kids safe, keep hydrocarbons in their original containers and out of reach of toddlers when in use. Immediately recap and store the hydrocarbon products out of sight and reach after use.
Grilling, Generators and Carbon Monoxide:
Carbon monoxide (CO) poisoning does not occur only in the winter months. Generators, grills, camp stoves, or other gasoline, propane, natural gas or charcoal-burning devices can generate large amounts of CO. To avoid carbon monoxide poisoning this holiday, always grill or use a generator in a well-ventilated outdoor area, away from doors, windows and vents that lead into the home.
Fires and Fireworks:
Fireworks and fire pits are a central part of Fourth of July celebrations, however, they must be used carefully. Firework snakes—sometimes called black snakes, colored snakes and glow worms—can contain arsenic, sulfur and barium nitrate/chlorate. Consuming a few pellets of these products can cause nausea and vomiting. Barium salts, which give the burning snakes a green color, can also cause paralysis.
Some families use chemicals to color the flames of their fire pit. Copper sulfate will turn the flames blue when added to the fire, but when ingested this chemical can cause severe injury to the gastrointestinal (GI) tract with nausea, vomiting, pain and burning followed by GI bleeding in severe cases. With very large ingestions, copper sulfate can cause red cells to rupture, kidney and liver injury, coma, shock, and eventually death.
Be sure to follow the instructions on both products and always supervise children when in use. Do not let small children play with the products, keep them out of sight and out of reach, and store them away immediately after use.
Alcohol and Cannabis:
Alcohol and cannabis products are legal in Illinois and often part of gatherings with friends and family. It's important to keep alcoholic drinks and cannabis products out of reach of children.
Sweet, brightly colored alcoholic drinks are attractive but dangerous to small children. Accidental alcohol ingestion can lead to serious health risks. Due to their low weight, children can easily become severely intoxicated. Alcohol can cause a child's blood sugar to drop to dangerous levels, as their metabolism and liver function is different than adults. Monitor carefully where drinks are stored and displayed during the party and keep alcohol out of reach of children.
Cannabis edibles—whether baked goods like brownies or cookies; candies like gummies, chocolate or mints; or THC-infused sodas—can be irresistible to small children. Unintentional exposures to cannabis edibles among children have increased across Illinois and the nation over the past few years. When sharing edibles, it is helpful not to let children watch you consume them and to store and lock up any leftover product immediately after eating.
Glow sticks:
Glow sticks are by far the most common Fourth of July holiday exposure reported to poison centers. Thankfully, they are not very toxic when compared to the products discussed above. Glow stick liquid can cause irritation of the skin, mouth and throat, but it usually goes away after cleaning or drinking water.
Keep these friendly poison prevention tips in mind to enjoy a safe Fourth of July celebration with family and friends. Also, take a moment to review our tips with everyone at the party to ensure that safety remains a top priority. Have a fantastic Independence Day celebration, filled with joy, laughter and a night sky filled with thrilling fireworks!
Click here for a free Complimentary Safety Packet (available in English and Spanish) that contains a sticker and magnet with IPC's free, confidential helpline number, 1-800-222-1222.