Illinois Public Health Officials Warn about Salmonella Outbreak Linked to Jif Peanut Butter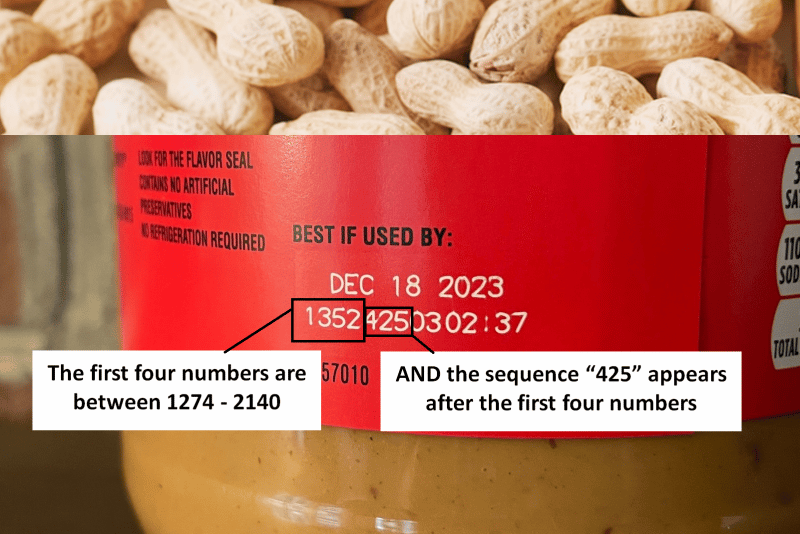 One of the cases included in this outbreak investigation is from Central Illinois
Warning issued
The Illinois Department of Public Health (IDPH) warns that some jars of Jif brand peanut butter may be contaminated with a strain of Salmonella that is making people sick.
According to the CDC, 14 people from 12 states have reported being infected with the outbreak strain of Salmonella. These illnesses occurred between February 17, 2022, and May 1, 2022. One case in this outbreak investigation is from Central Illinois.
On May 20, 2022, J.M. Smucker Company recalled multiple Jif brand peanut butter types.
What should you do?
Those using Jif brand peanut butter should check the lot code number on the container.
The lot code number is next to the "best if used by" date.
Products involved in the recall have lot numbers between 1274425 and 2140425, with "425" appearing after the first four numbers.
Consumers who have Jif brand peanut butter matching the above description are advised to:
Dispose of the product immediately.
Do not eat, sell, or serve recalled Jif peanut butter to humans or animals, including dogs and birds.
Wash surfaces and containers that may have touched the recalled peanut butter using hot, soapy water.
What symptoms merit further attention?
Symptoms of illness caused by this strain of Salmonella may include:
Headache
Muscle aches
Diarrhea
Vomiting
Abdominal cramping
Chills
Fever
Nausea
Dehydration
Anyone experiencing symptoms within 12 to 72 hours after eating Jif brand peanut butter should contact a health care provider and let them know they have recently eaten the product.
IDPH is working with local health departments throughout Illinois to identify additional cases and perform lab testing.
For more information and examples of where to find the lot code, we encourage you to go to:
https://www.fda.gov/food/outbreaks-foodborne-illness/outbreak-investigation-salmonellapeanut-butter-may-2022.
To report a potential foodborne illness in Moultrie County, please contact the Moultrie County Health Department at 217-728-4114. Office hours are Mon-Fri, 8:30 a.m.-12:00 p.m. and 1:00 p.m.-4:30 p.m.