How Better Nutrition Supports Academic and Athletic Performance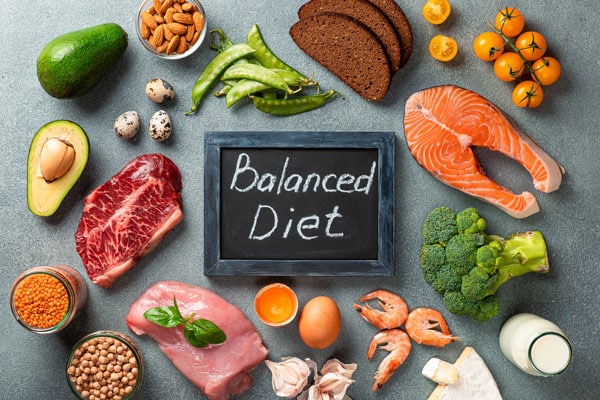 As the school year begins, good nutrition can help improve your student's academic and athletic outcomes.
The role of nutrition in overall student well-being.
Emerging research and existing data continue to shed light on the crucial role of proper nutrition in supporting overall student well-being.
Researchers are still working to prove the connection between nutrition and student performance. However, current studies strongly suggest that students with a balanced diet are more likely to achieve academically and athletically.
How does proper nutrition support academic performance?
Brain health:
Nutrition plays a crucial role in brain development and function. Omega-3 fatty acids in fish, walnuts, and flaxseeds support cognitive function and memory.
Antioxidant-rich foods like berries, dark leafy greens, and nuts potentially enhance concentration and mental clarity.
Academic function:
Research also indicates that better nutrition is associated with improved performance on school exams, particularly in subjects like math.
When students receive the necessary nutrients, it enhances their ability to grasp complex concepts and excel academically.
Additionally, better nutrition supports a student's capacity to stay focused and attentive during class, which is crucial for effective learning.
Attendance and behavior:
Students who maintain a healthy, well-balanced diet tend to exhibit better behavior in school and experience fewer absences.
Collectively, these factors contribute to a healthier learning environment in which students and teachers can thrive.
How does proper nutrition support athletic performance?
Sustaining energy levels:
Proper nutrition provides the energy needed for both physical and mental activities. Carbohydrates are the body's primary energy source.
Consuming complex carbohydrates like whole grains, fruits, and vegetables ensures a steady energy release throughout the day. This energy is essential for students to continue to perform through long hours of classes, practices, and homework.
Muscle growth and recovery:
Adequate protein intake is necessary to support muscle growth and recovery.
Protein-rich foods such as lean meats, poultry, fish, dairy products, and plant-based sources like legumes help develop and maintain muscle mass and repair tissue damage caused by strenuous or prolonged physical activity.
Adequate hydration:
Staying adequately hydrated is fundamental for athletes. Dehydration can lead to fatigue, reduced coordination, and impaired cognitive function.
Water is essential for all bodily functions, including digestion, circulation, and temperature regulation. Athletes should drink plenty of water before, during, and after physical activities to stay hydrated.
Here are some practical tips for parents and students.
Meal planning – Students can benefit from planning meals and snacks to ensure they can meet their nutrition requirements throughout the day.
Breakfast matters – A healthy breakfast gives the body and brain a jumpstart. A balanced breakfast should include a mix of protein, carbohydrates, and healthy fats.
Snack smart – Choose nutrient-dense snacks like fruits, vegetables, yogurt, or nuts to stabilize energy levels between meals.
Stay hydrated – Carry a reusable water bottle and drink water regularly to stay hydrated.
Don't Skip Meals – Skipping meals can lead to fatigue and decreased concentration. Make time for lunch and dinner, even on busy days.
Seek professional guidance – If students have specific dietary needs or restrictions, consider consulting a registered dietitian or healthcare provider for personalized advice.
The WIC program: A resource for improving student nutrition.
The Women, Infants, and Children (WIC) program is an amazing nationwide resource that focuses on nutrition and health promotion.
This initiative, funded by the U.S. Department of Agriculture (USDA), strives to enhance the well-being of pregnant women, infants, and children up to the age of 5.
Here's how the WIC program can support your child's nutrition:
Nutritious foods:
WIC provides participants with food packages tailored to the participant's nutritional needs, dietary habits, and cultural preferences.
Nutrition information:
Certified WIC staff in local health departments and other locations provide valuable personalized education on nutrition and healthy eating to all program participants.
In-person WIC clinic services are only available to WIC participants. However, people of all ages can benefit from the healthy eating guidelines and nutrition information available on the WIC website.
Broader outreach:
While the WIC program focuses on serving pregnant women, infants, and children, it's important to note that fathers, grandparents, foster parents, guardians, and caregivers can also enroll eligible infants and children in the program.
By ensuring as many children as possible start their lives with a healthy diet, we improve the potential for all children to succeed through their growing years and beyond.
Good dietary choices help equip students for success.
Proper nutrition ensures that both body and mind are well-equipped to meet the demands of the day. Moreover, it supports every student's potential to excel at school and in other areas of their lives.
Parents can set the stage for their child's life-long achievement and overall well-being by starting early and making a balanced diet a normal part of daily life.
More information is available.
If you're interested in participating in the WIC program or accessing any other services offered by the Moultrie County Health Department, we encourage you to contact our office. Together, we can help make this a year of better health and nutrition for all our students and their families.