Your Best Chance of Avoiding Influenza – A Flu Shot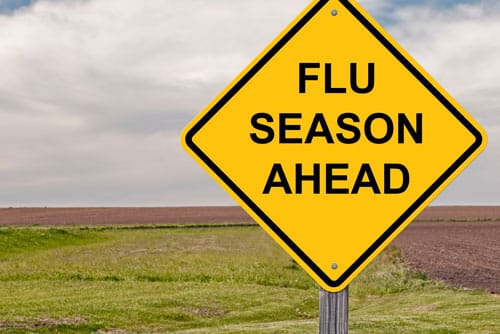 Although the flu shot can't guarantee protection, it's your best defense against Influenza.
What is Influenza?
Influenza is a viral respiratory infection that can cause serious complications. This is particularly true in young children, older adults, and people with underlying medical conditions.
Unlike gastrointestinal distress, which we commonly call the "stomach flu," influenza can last several days. It affects the function of the lungs and can result in pneumonia, worsening chronic health conditions, and even death.
Why should I get a flu shot in 2022?
Getting an influenza vaccine is the best way to reduce your risk of influenza and its complications.
The Centers for Disease Control and Prevention (CDC) recommends annual flu vaccination for everyone 6 months and older.
The current flu vaccine will help protect against the four influenza viruses predicted to circulate this flu season. The standard dose vaccine typically provides adequate protection for most children and adults, while the high-dose flu vaccine is recommended for individuals 65 years and older.
When should I get a flu shot?
According to the CDC, most people should try to get their flu vaccine by the end of October. However, getting vaccinated in November or even later is still beneficial. This is because influenza often peaks between December to February, and can last through early Spring.
It usually takes approximately two weeks to build immunity after a flu shot. Therefore, the best time to get vaccinated is before Influenza starts spreading in your area.
Why do I need a flu vaccination every year?
Flu viruses evolve and often vary from year to year. As a result, last year's vaccine may not protect you from this year's viruses. That's why new flu vaccines are released every year.
Additionally, when you get vaccinated, your immune system produces antibodies to protect you from the viruses included in the vaccine. However, your antibody levels may decline over time. This is another reason you need to get a flu shot each year.
Who should get the flu vaccine?
As mentioned earlier, the CDC recommends annual influenza vaccinations for everyone 6 months or older.
People who may be at higher risk for influenza and its complications should consult with their medical provider regarding their need for vaccination. These individuals include:
Pregnant women
Older adults
Young children
People with weakened immune systems
Anyone with a chronic medical condition
Can the vaccine give me the flu or other respiratory diseases?
No. The flu vaccine can't give you the flu or increase your risk of COVID-19. However, there are a variety of reasons you might develop flu-like symptoms after getting a flu vaccine. These include:
Vaccine response – Some people experience mild muscle aches and fever a day or two after receiving a flu vaccine. This may be a side effect of your body's production of protective antibodies.
The two-week window – It takes about two weeks for the flu shot to take full effect. You might catch the flu if you're exposed to the influenza virus shortly before or during that time.
Vaccine-virus match – In some years, the vaccine may not always cover all the viruses circulating during the flu season. However, your flu shot will likely continue to offer some protection even without a perfect vaccine-virus match.
Other illnesses – Many other illnesses, such as the common cold, can produce flu-like symptoms. So, you may think you have the flu when actually—you don't.
What kind of protection does the flu vaccine offer?
How well the flu vaccine protects you from the flu can vary from year to year and person to person. The standard flu vaccine is generally effective among people under 65 years old.
Individuals over 65 may experience a lower-than-desirable immune response to the standard flu shot. Therefore, a high-dose influenza vaccine is recommended.
How can I further lower my risk of getting the flu?
The flu vaccine is your best defense against the flu, but there are additional steps you can take to help protect yourself from the flu and other viruses, including COVID-19. These steps include the following:
Wash your hands often and thoroughly with soap and water for at least 20 seconds.
Use an alcohol-based sanitizer on your hands if soap and water aren't available.
Avoid touching your eyes, nose, or mouth.
Avoid crowds when the flu is spreading in your area.
Avoid being in close contact with others who are sick.
Cover your mouth with a tissue or your elbow when you cough or sneeze, and then wash your hands.
Regularly clean and disinfect commonly touched surfaces, such as counters, light switches, or doorknobs. This can help prevent the spread of infection from touching a surface with the virus on it, and then touching your face.
Stay home when you are sick. Preventing the spread of all illnesses is paramount to everyone's health, especially during flu season.
Practice good health habits. Get regular exercise, sleep well, drink plenty of fluids, eat a healthy diet, and manage stress.
A flu shot: It's up to you!
An annual flu vaccine offers the best protection against the flu virus and its complications. Consult with your medical provider if you have concerns regarding your health conditions and whether the influenza vaccine is right for you.
If you have questions about the vaccine or want to schedule an appointment, please call the Moultrie County Health Department (MCHD.) Influenza vaccines will be available after of October 1.
We offer influenza vaccines for persons 6 months through adulthood.
High-dose vaccines are available for individuals 65 and older.
We bill Medicare, Medicaid, and most private insurances.
Remember, it's up to YOU to prevent the FLU!