Why Should You Build an Emergency Kit?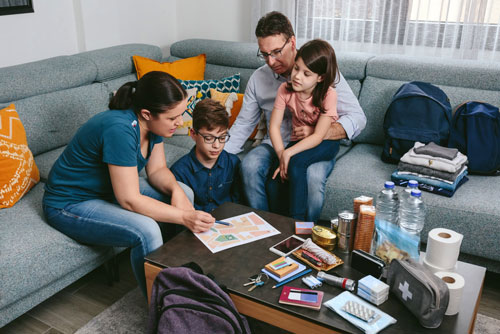 "Be prepared … Build an emergency kit" – it's the first step in disaster preparation for you and your family.
Why does your family need an emergency kit?
The Illinois Emergency Management Agency (IEMA) recommends that everyone create and periodically update their family emergency plans and establish a family communications plan. They also recommend building an emergency kit to support all family members during and after a disaster.
According to IEMA Director Alicia Tate-Nadeau, "It could be a matter of life or death because if you need to evacuate within minutes, you will need that kit packed and ready to go."
What types of natural disasters are common in Illinois?
An Illinois resident needs to be prepared and build an emergency kit because of the potential of a natural disaster that could threaten public health and safety. The two lists below include natural disasters we have experienced in various regions of Illinois.
Common natural disasters include:
Severe storms
Floods
Tornadoes
Winter storms (snow and ice)
Power outages
Other less common natural disasters include:
Wildfires
Earthquakes
Landslides
Severe heat waves
Between 1953 and 2022, Illinois declared 64 major disasters. Severe storms and floods accounted for most of these events, according to the Federal Emergency Management Agency (FEMA).
How can an emergency kit help your family in a disaster situation?
While some items recommended for an emergency kit seem obvious, like water and non-perishable food, others might not be at the top of your mind during an urgent evacuation order.
IEMA Director Tate-Nadeau reminds us, "Some of the items that families find critical in a disaster are prescription and over-the-counter medicines, important documents like Social Security cards or insurance policies, cash, or personal care supplies like contact lenses and cleaners."
What should your emergency kit include?
Here are some general items that would be beneficial in a basic emergency kit.
Water (one gallon per person per day for three days)
Non-perishable food (a three-day supply or ready-to-eat canned or other foods that require no refrigeration or cooking)
Flashlight with extra batteries
First aid kit
Battery-operated radio with extra batteries
Extra battery or external charger for cell phone
Copies of important family documents stored in a waterproof bag or container (including cash)
Face coverings for all family members
Hand sanitizer and disinfecting wipes
Prescription and over-the-counter medications
What is your role in emergency preparedness?
The Moultrie County Health Department collaborates with emergency response units, schools, municipalities, and medical care providers throughout Moultrie County and Illinois on issues relating to public health service coordination and emergency response.
We do this to further develop response plans and systems to meet the needs of Moultrie County residents.
However, only you can build an emergency kit for your family. Likewise, only you can create an overall plan for your household and teach your family how to implement it.
Additional resources
If you need additional assistance in building your emergency kit, please visit the resources listed below:
A complete emergency supply checklist for your family can be downloaded here
Illinois Emergency Management Agency (IEMA) resources:
This is the first in a series of articles to help you ensure the safety and security of you, your family, and others who also matter most in your life. The MCHD encourages you to "be prepared" and start assembling your emergency kit today.