Child Safety Seat Program Strives to Protect Children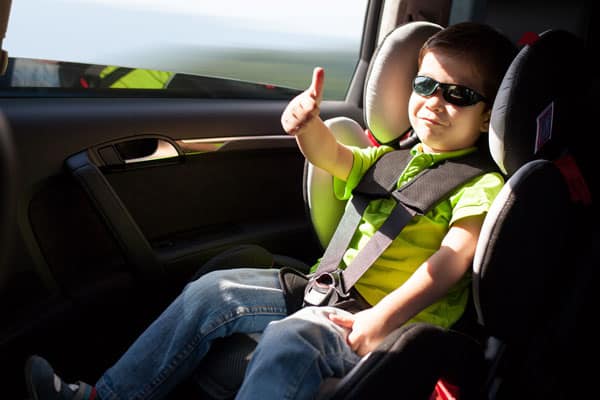 Motor vehicle crashes are the second leading cause of death among children ages 1 to 13.
Why are child safety seats essential?
Child safety seats and boosters are designed to protect infant and child automobile passengers. Sadly, Car crashes are a leading cause of death for children ages 1 to 13.
According to the Illinois Child Passenger Protection Act, the following principle guides child passenger safety: "Every person on every ride must use a car seat, booster seat, or safety belt that is right for their weight and height."
Therefore, it is essential to choose and correctly use the right car seat every time your child is in a car.
The MCHD Child Safety Seat Program:
In order to facilitate child passenger safety for all Moultrie County residents, the Moultrie County Health Department (MCHD) offers a Child Safety Seat Program. This program is coordinated by a Certified Child Safety Seat Technician, and provides a variety of services:
Car Seat and Booster Seat Installation
Car Seat and Booster Seat Installations for Moultrie County residents are available weekly during regular office hours at the MCHD. Residents should make an appointment for car seat installation assistance by calling (217) 728-4114.
During a car or booster seat installation, the Certified Technician inspects, installs, and adjusts the safety seat to fit your child correctly. The Technician will also evaluate whether your child meets the requirements for the safety belt.
Most importantly, the Technician will teach you how to ensure your child is appropriately secured by the safety seat.
Assistance towards obtaining car seats and booster seats is periodically available through this program for qualified applicants. An application for assistance is available through the program coordinator.
Car Seat Check-up Events
Car Safety Seat Check-up Events are available at the MCHD for anyone wishing to have their car seats inspected by the Certified Technician.
Watch our events calendar, follow us on Facebook, or contact the MCHD at (217) 728-4114 for more information on upcoming events.
School and community presentations.
The MCHD's Certified Technician can also provide educational presentations designed to meet the needs of specific audiences. These audiences include civic organizations, school parent groups, churches, and workplaces.
Individual education and consultation for this service are also available by contacting the MCHD.
Should you check your child's safety seat at home?
One of the best things you can do is to periodically check your child's safety seat to ensure it continues to provide optimal protection for your child.
Click the following link from Safe Kids Worldwide for a "checkup" guide. The check-up process takes about 15 minutes to complete and will help you determine if you should make an appointment with MCHD's Certified Car Seat Technician to correct any problems.
Safety First!
Proper use of a safety seat reduces the risk of child deaths due to automobile accidents. However, don't forget these other essential measures to protect your children, other passengers, and yourself while driving:
Routine Car Maintenance – keeps your automobile in good repair to reduce travel hazards.
Stay Alert – don't be distracted or drowsy when driving.
Avoid Risky Behaviors – follow the rules of the road, and don't speed or drive under the influence of alcohol, drugs, or marijuana.
Understand and Use Driver Assistance Technologies – some of these features can reduce your risk of accidents.
Safe Travels!