Do You Really Need Both a Flu Shot and a COVID-19 Booster?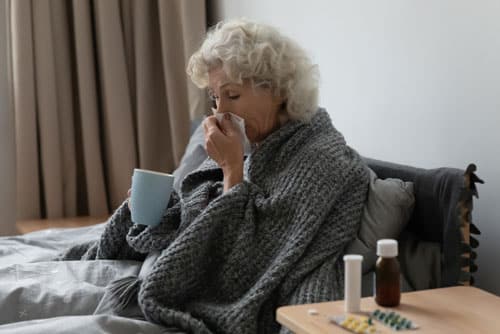 Updated Influenza and COVID-19 booster vaccines can help protect people from prevalent viruses.
What's the Big Deal?
This year will mark the third flu season with COVID-19 still circulating. Both viruses can cause health problems ranging from mild symptoms to illnesses requiring hospitalization and medical support measures.
Likewise, both illnesses can also be deadly for the most susceptible individuals, such as those with chronic health conditions or compromised immune systems.
Fortunately, there are separate vaccines against both illnesses, which can help reduce our risk of getting severely ill from either of these viruses.
Additionally, an updated, safe, and effective bivalent COVID-19 booster can help protect those eligible to receive it from the most recent COVID-19 variants.
Why do we need both a COVID-19 booster and a flu shot?
Vaccines work because they help your body build immunity. You need to get the seasonal flu shot and a COVID-19 booster this fall because they protect against different viruses.
The flu vaccine helps protect against four prevalent strains of influenza. The new bivalent COVID-19 booster supports further protection against COVID-19 and two contagious variants.
Unfortunately, neither vaccine provides "cross-reactivity." In other words, the flu shot will not help protect you against COVID-19, and the COVID-19 vaccination will not improve immunity against influenza. The Centers for Disease Control and Prevention (CDC) recommends getting both the flu shot and the COVID-19 booster.
Who should get the Vaccines?
Since 2010, the CDC has recommended annual flu vaccines for everyone ages 6 months and older.
According to the CDC, individuals at higher risk of severe flu infection include those over the age of 65, pregnant women, children younger than five years, and individuals with underlying health conditions.
The CDC also recommends that everyone eligible to get a COVID-19 vaccine should do so. COVID-19 vaccines are available for individuals 6 months and older. The latest bivalent booster helps protect against the more recent variants and is available for ages 12 and older.
When should you get these two shots?
The timing of when to get your flu shot and COVID booster can be confusing. The CDC says if you haven't yet gotten your initial recommended dose of the COVID-19 vaccine, do so as soon as possible.
Health experts typically recommend getting your seasonal flu vaccine by the end of October (or before flu season peaks for your area) for the best protection.
Should you get both vaccines at the same time?
Health experts agree that you can take both vaccines at the same time. Perhaps you can, but should you?
Getting both shots in one visit may keep you from making multiple trips to your healthcare provider. However, getting both at the same time may not be for everyone. As with any vaccination, there are mild side effects that both vaccines can cause. These side effects include:
1. Pain at the injection site (including redness and swelling)
2. Joint or muscle pain
3. Fatigue
4. Headache
5. Chills
6. Fever
7. Nausea
Have you experienced side effects from vaccines in the past, where it took a couple of days for them to subside? If so, you may want to get your flu shot and COVID-19 booster at separate times.
You know yourself best. Talk to your healthcare provider if you have concerns regarding when and how to obtain your vaccines.
How to maximize your protection?
The critical thing to remember about these vaccinations is that you should remain up to date with each of them to provide the best protection against Covid-19 and Influenza for you and your loved ones.
As the holiday season approaches, you may already have family and social gatherings on your calendar. If you get your flu shot in October but want to wait to get your COVID-19 booster, plan to get it at least two weeks before any large gatherings to ensure the best protection against the virus.
Additionally, common sense is always your best defense when protecting yourself from illness. While vaccines boost immunity, they are not fool-proof.
If you are interested in additional protection or cannot physically tolerate vaccines, there are other steps you can take. The following link offers additional steps that can help reduce your risk of exposure to illness.
How can the Moultrie County Health Department help?
Whether you need a seasonal flu shot, a COVID-19 vaccine, or a COVID-19 booster shot, the Moultrie County Health Department (MCHD) is prepared to provide you and your family with the most up-to-date vaccines.
The MCHD has COVID-19 and Influenza vaccination clinics scheduled through October.
Appointments for the flu vaccine (including high-dose vaccines) are available by contacting the MCHD office.
You can secure an appointment for your COVID-19 vaccine or booster by contacting the MCHD office or registering online.
If these clinics do not work with your schedule, contact our office at (217) 728-4114 to schedule an individual vaccination appointment. As always, please call us if you have any questions about either vaccine.