IDPH Warns the Public to Watch Out for Rabid Bats and Animals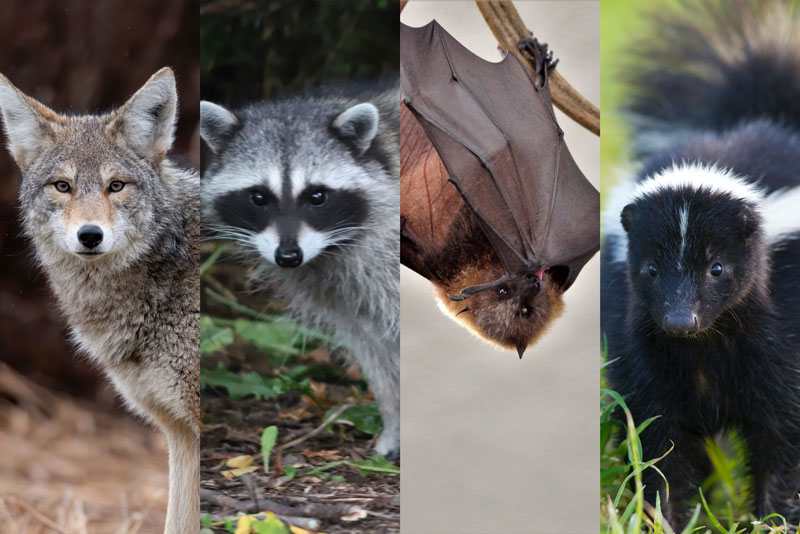 The Illinois Department of Public Health (IDPH) has received reports of four rabid bats in the state since May 15 from Champaign, Jackson, Macon, and Will counties.
What is rabies?
Rabies is the common name of a virus that affects the nervous system (brain and nerves). People can get rabies after being bitten by an infected animal. Rabies can also be contracted when saliva (spit) from a rabid animal gets directly into a person's eyes, nose, mouth, or a wound.
How do we avoid rabies?
"Bats are the most common carriers of the rabies virus in Illinois and are responsible for most human cases in the United States," IDPH Acting Director Amaal Tokars said in a recent statement. "While there is a preventive treatment, rabies is one of the deadliest diseases we know."
Dr. Tokars went on to say, "However, bats are not the only carrier of rabies. The public should not approach bats or any wild, unfamiliar, or stray animal, and any animal that appears to be sick."
The Moultrie County Health Department joins IDPH in stressing that a bite from a rabid animal can be potentially fatal if not treated. Subsequently, the public should take precautions to keep bats and other unfamiliar animals out of their homes and other enclosures and act quickly if bitten.
What are the signs that a bat may have rabies?
It's important to remember that an animal does not have to be aggressive to have rabies. Changes in any animal's normal behavior can be early signs of rabies.
A bat that is active during the day, found on the ground, or unable to fly is more likely than others to be rabid. Such bats are often easily approached but should never be handled.
What to do if you "may" have been bitten
People usually know when a bat has bitten them. The problem is that bats have very small teeth, and the bite mark may not be easy to see.
What should you do if you find yourself near a bat and are unsure whether you were bitten?
If you discover a bat in an enclosed space where you've spent some time, do not kill or release the animal immediately. Instead, remove yourself to a safe place and try to contain to the area. Call your doctor or local health department for help in determining whether you may have been exposed to rabies and need preventive treatment.
Although killing or getting rid of the animal ASAP may feel like an instinctively correct action, contacting local health authorities to secure the bat is the best course of action. If the bat can be tested and results prove negative, preventive treatment is not required.
What about pets and other livestock?
IDPH also reminds the public to make sure that rabies vaccinations are up to date for their pets. Rabies vaccines are also available for livestock through licensed veterinarians.
If a pet is exposed to a high-risk wild animal – such as a bat, skunk, raccoon, fox, or coyote – immediately contact a veterinarian for advice.
If any animal has bitten you, seek immediate medical attention. In addition to the risk of rabies from infected or unvaccinated animals, wounds from animal bites may also become infected with other bacteria. If you need preventative treatment against rabies, it should begin as soon as possible.
The following tips can reduce your risk of exposure to rabies:
Do not touch or feed wild animals. Furthermore, don't leave open garbage cans or litter that might unintentionally attract them.
Never adopt wild animals, bring them into your home, or try to nurse sick wild animals back to health. Instead, call animal control or an animal rescue agency for assistance.
Teach children never to handle unfamiliar animals, wild or domestic, even if they appear friendly. "Love your own, leave other animals alone" is a good principle for children to learn to reduce the risk of exposure to rabid animals.
If you find an unfamiliar animal or bat inside your home or living area, it is best to stay away from the animal, seclude it in an enclosed area (room or other location) to prevent the animal from escaping, and call local Animal Control. If there is a possibility that you have been bitten or scratched by the animal, seek medical attention right away.

Steps you can take to capture a bat if Animal Control is not available:
A bat may need to be captured for rabies testing to determine if preventive treatment is required.
The only reason a bat needs to be captured is if you find it unexpectedly in your living area or if a person or pet may have been bitten.
Do not come into physical contact with a bat.
When the bat lands, approach it slowly while wearing thick or protective gloves and cover the animal with a box or coffee can.
Slide a piece of cardboard under the container to trap the bat inside.
Tape the cardboard to the container securely, and punch small holes in the cardboard, allowing the bat to breathe.
Check out the following links for additional information about rabies and how to keep bats out of your home.
To report a bat or animal bite in Moultrie County, please contact the MCHD at 217-728-4114. Also, for assistance with animal-related issues, the Moultrie County Animal Control can be reached at 217-728-2018.