CodeRED: Moultrie County's Emergency Warning System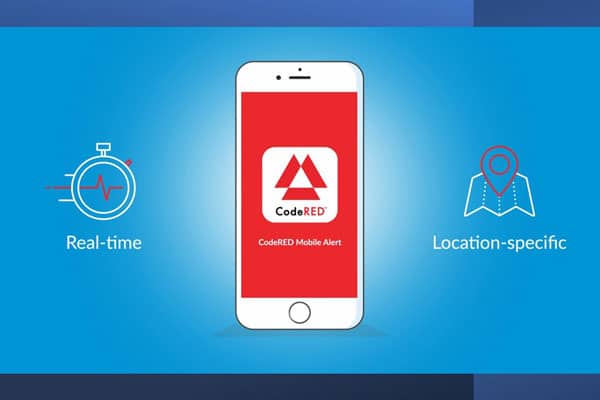 Moultrie County residents can receive address-specific emergency messages and weather warnings by phone, email, or text.
What is CodeRED?
CodeRED is an emergency alerting service available to all Moultrie County residents and businesses. This secure service is provided at no charge and is coordinated through the Moultrie County Emergency Services Disaster Agency (ESDA).
Moultrie County residents and property owners can register their names, address, and phone numbers in the system. Those who are correctly registered can then receive emergency messages and weather warnings of their choice by phone, email, or text.
Who is eligible to sign up for CodeRED notifications?
The Moultrie County Health Department (MCHD) encourages everyone living in Moultrie County to register for CodeRED warnings. "Everyone" includes:
Moultrie County residents
Individuals who have unlisted phone numbers
Businesses and individuals whose phone number or address has changed within the past year.
Moultrie County businesses
Those who use their cell phone or VoIP phone as their primary number.
The MCHD urges all county residents and businesses to go to the Moultrie County website and follow the CodeRED link to sign up for this service. You can also click the following link directly to the CodeRED Community Notification Enrollment page.
How can an individual or business sign up for CodeRED notifications?
You must sign up for a "managed account" on the enrollment page. Once enrolled, you can add your telephone contact information to the CodeRED database to receive calls from the system.
You will have an opportunity to add all the telephone numbers associated with your Moultrie County residence. Then, you must check the box for the weather warnings you want to receive. If you do not check the box, you will not be notified of warnings related to that event.
What information is required to sign up for CodeRED notifications?
Information required for the CodeRED database includes:
Your first and last name.
Your street address (a physical address is required, no P.O. boxes), city, state, and
zip code.
A primary phone number for your residence. You can also enter additional phone numbers for your residence, such as other family members' cell phone numbers.
CodeRED provides geographically based delivery. This means accurate street addresses located in Moultrie County are required to ensure that individuals receive emergency notification calls.
Once you have entered your street address, it is essential to check the website map. You need to confirm that the "dot" representing your residence or business is correctly located.
Remember, the system is designed to deliver warnings to individuals specific to the location of their residence.
How can I sign up for CodeRED if I don't have Internet access?
Those without Internet access may call the Moultrie County Emergency Services Disaster Agency (ESDA) office (from 9 a.m. until 4 p.m. Monday–Friday) at (217) 728-8841 for assistance with CodeRED sign-up. The ESDA office will enter your information into the system while you are on the phone.
Is my information with CodeRED secure and private?
CodeRED gives those who want to be included an easy and secure method for inputting information. The information will only be used for emergency notification purposes and not shared outside the CodeRED system.
Sign up for Safety!
The MCHD, along with the Moultrie County ESDA and your local emergency responders, encourages everyone in Moultrie County to sign up for CodeRED alerts. It's one of the easiest steps you can take to improve the safety of you and your family during unexpected events.