Tips for Traveling Safely in Winter Weather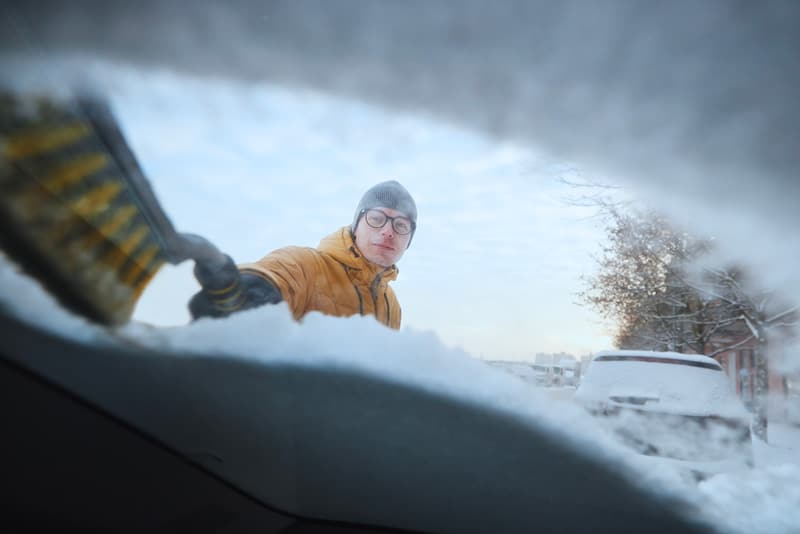 Prepare yourself and your car for Wintertime precipitation and hazardous driving conditions.
Assemble an emergency kit for yourself and your passengers.
An emergency kit will prove essential if you are stranded on the road during winter weather. Make sure your car's emergency kit includes the following:
Jumper cables
Ice scraper
Car cell phone charger
Map
Cat litter or sand (for better tire traction in case your vehicle gets stuck in the snow)
Broom
Flashlights and warning devices (flares, emergency markers, and reflective triangles)
Snow shovel (to remove snow from your car's exhaust area)
Blankets for protection from the cold
First aid kit
Water, food, and any necessary medicine
Extra supplies for passengers with special needs (diapers and formula for babies, snacks for kids, pet supplies, etc.)
Ensure your car is ready for cold weather.
You (or a mechanic) need to check the following equipment, instruments, and fluids on your car:
Antifreeze level
Battery and ignition system
Brakes and brake fluid level
Exhaust system
Fuel and air filters
Heater, defroster, and thermostat
Lights and flashing hazard lights
Oil level
Tires (Air pressure and tread depth)
Windshield wiper equipment and washer fluid level
Safety tips for winter travel
The following are additional safety tips to improve your winter weather travel experience:
Before Leaving Home:
Check local weather and traffic reports before heading out. If the roads you plan to take are hazardous, consider postponing travel until they are reported clear and safe.
Check your state's Department of Transportation website for winter road conditions. For example, an Illinois Department of Transportation webpage displays current Illinois winter road conditions.
Stay off hazardous roads when winter storm advisories and watches are issued.
Assemble an emergency kit (items listed above) in case you are stranded on the road due to winter weather conditions.
If planning a long-distance road trip and severe winter weather is in the forecast, consider leaving earlier or later to avoid being on the roads during the storm.
Plan your trip, check maps, and familiarize yourself with directions. Even if you use a GPS, you should still let others know your route and your anticipated arrival time.
Make sure your tires are in good condition and have enough tread.
Keep your car's external camera lenses, and side view mirrors clean, so you can see what's around your vehicle.
Remove dirt, ice, and snow from vehicle sensors to allow assistive-driving features like automatic emergency braking, automatic high-beam lights, and blind spot warning to activate appropriately.
Keep your gas tank full in case there is a power outage, and you need to evacuate. Also, a full tank will help keep your vehicle's fuel line from freezing.
In electric and hybrid vehicles, the battery drain due to heating can be minimized by keeping your car as warm as possible during freezing temperatures. Many do this by plugging their vehicle in at night during the winter, which helps keep the battery temperature in optimal ranges.
While you are traveling:
Always wear a seat belt. (It's the law in Illinois.)
Slow down. That means slower speeds, slower acceleration, slower steering, and slower braking, which are all helpful in maintaining control of your vehicle in winter driving conditions.
Stay on your planned route and be aware of your location throughout your trip.
Do not use handheld devices while on the road. (It's the law in Illinois.)
Stay alert for snowplows. A snowplow operator's field of vision is restricted. You may see them, but they may not see you.
Don't use cruise control in snow and ice.
Watch out for black ice on the roads. It may appear clear, but it can be treacherous.
Be especially careful when approaching intersections, ramps, bridges, and shady areas. These road surfaces are prone to icing.
Carry a cell phone and a car charging cord or unit.
Slow down and move over for stopped emergency, construction, and maintenance vehicles.
If you become stranded during your travel:
If stranded in severe winter weather, stay with your car, and don't overexert yourself.
Make sure your car can be seen by turning on your hazard lights.
It's essential to remain vigilant to prevent carbon monoxide poisoning. Ensure your vehicle's exhaust pipe is clear of snow. Run your car's engine occasionally. You want to run it just long enough to stay warm.
911 should be your first call if you are stranded and unable to travel further or assist yourself in becoming unstuck due to health or other reasons. Try to reserve your cell phone for emergency calls during this time.
Winter weather can be unpredictable.
Throughout the winter, especially during severe weather conditions, the Moultrie County Health Department encourages everyone to plan their winter trips carefully, allow extra time for travel adjustments, and prepare in advance to ensure you and your passengers arrive safely at your destination.