Spring Weather Safety: It's Time to Prepare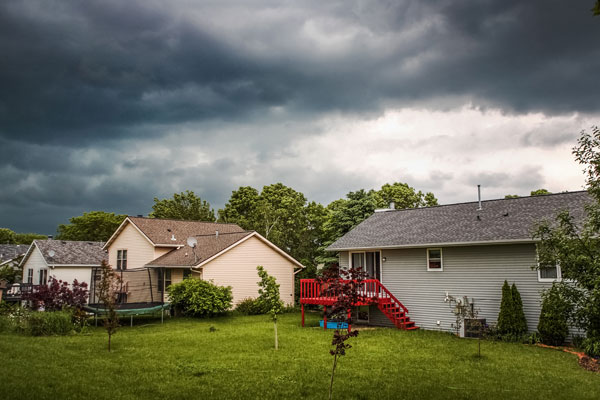 Now is the time to protect yourself and your family by preparing for the potential of severe spring weather conditions.
Why is spring weather safety important to all of us?
Weather officials agree that North America, particularly the United States, has the world's most severe weather extremes. No other place on earth has the same hazardous array of severe thunderstorms, lightning strikes, tornadoes, and floods.
What makes these weather conditions so severe in the U.S.?
According to Sean Potter, a meteorologist and weather historian, "The U.S. is uniquely situated in the mid-latitude, about halfway between the equator and the North Pole, and between two oceans."
Potter notes the cold, dry air from Canada; the warm, moist air from the Gulf of Mexico; and the prevailing jet streams and moisture from the Pacific and Atlantic Oceans as components of "the perfect storm." In fact, the collision of these conditions across the U.S. fuels the massive storms we experience year-round.
What about tornados and thunderstorms?
The U.S. experiences about 75% to 90% of all tornadoes worldwide.
For example, the U.S. averages more than 10,000 severe thunderstorm events per year, with over 1,000 tornadoes. By comparison, China sees around the same number of severe thunderstorms but fewer than 10 tornadoes per year.
What can you do to be prepared for severe weather this spring?
As spring comes to Central Illinois, we will experience our share of severe weather. While you cannot prevent severe weather, you can prepare for it and protect yourself and your family.
The Moultrie County Health Department (MCHD) encourages you to consider the following severe weather safety tips:
Be aware of weather conditions, forecasts, and alerts.
Monitor weather conditions via a weather alert radio, local radio, TV broadcasts, and the National Weather Service (NWS) web pages.
Download weather apps on your computer, tablet, and smartphone. Confirm that the settings apply to your geographic location. This is especially important if you are traveling and not in your normal area.
Have access to more than one weather information source—especially storm sirens. Outdoor community sirens are valuable tools, but they may not be heard indoors by everyone.
Create an emergency plan.
It would be best to create an emergency plan for your home, business, school, and when you are traveling. Designate places to seek safe shelter from a tornado or severe thunderstorm.
Most tornado-related injuries and deaths result from falling and flying debris. Although no place is completely safe during a tornado, the following guidelines will improve your odds of sheltering safely if severe weather threatens your area:
<0l>
Go to the basement or an inside room without windows (bathroom, closet, center hallway) on the lowest floor of a home.
If possible, avoid sheltering in any room with windows.
Get under something sturdy (a heavy table or workbench) for added protection. Cover your body with a blanket, sleeping bag, or mattress. Protect your head with anything available.
If you are outside or in a mobile home, seek shelter in a nearby building, preferably with a basement.
Plan and agree on two places to meet with your family or co-workers in case you are separated during the storm.
Keep your cell phone charged and with you at all times.
While traveling or away from home, know the names of the locations you visit—especially county and city names. Monitor weather forecasts for your time of travel, route, and destinations. If you are in your car, do not try to outrun a tornado; instead, find the nearest sturdy building.
Prepare yourself and your home for an emergency.
Learn how to use a fire extinguisher
Know how to turn off your home's electricity, gas, and water.
Inspect your home and yard for hazards such as weakened trees or limbs, cracked windows, or worn roofing. Do your best to prioritize these things and remedy them when possible.
When you build a new structure or renovate an existing one, consider asking professionals about ways to prevent wind damage to roofs, upper floors, and garages. Rafters, trusses, walls, and doors can all be reinforced.
Keep and maintain an emergency supply kit.
Storms can result in property damage and power outages that last several days. An emergency kit will help you cope if severe weather becomes a prolonged disaster. Your kit should include the following items:
Bottled water
Non-perishable food
Flashlights and extra batteries. A power pack for cell phones is also helpful.
Extra clothing and blankets
An extra set of keys & cash
Medications and a first-aid kit
Personal hygiene items
Pet supplies
A weather alert radio or portable AM/FM radio
A First Aid/ CPR manual
A more comprehensive guide for assembling an emergency kit is on page 11 of the Severe Weather Preparedness Guide offered by the Illinois Emergency Management Agency (IEMA).
A spring weather safety series.
The MCHD will continue to provide a series of spring weather safety facts and tips on our Facebook page over the next several weeks. In the meantime, be prepared and stay safe!