Many Seniors Face Isolation and Loneliness at Christmastime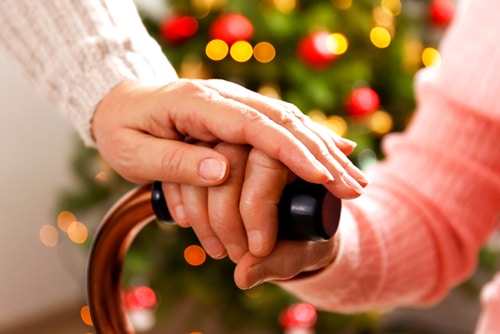 What can we do to help seniors struggling with isolation and loneliness during the holiday season?
Seniors and Christmas isolation.
The Christmas season is a joyous time when families and friends get together and create new memories. Sadly, millions of seniors (ages 65 and over) will not share this same holiday experience. Instead, too many of our seniors will experience this Christmas holiday isolated and alone.
After retirement, seniors often lose work connections, and their social relationships gradually diminish. Family members may be increasingly absent due to work responsibilities and a crowded calendar of holiday activities.
Many seniors enter each Christmas season with an elevated sense of isolation and loneliness.
These feelings may be due to physical and mental limitations that reduce their ability to participate in social activities, financial limitations that prevent them from enjoying holiday traditions, or simply the separation from family and friends due to time and distance constraints or even death.
Isolation and loneliness negatively impact senior health.
Isolation is a situation in which an individual has a very limited number of social connections. Loneliness is a personal feeling of sadness at being alone.
Prolonged isolation and loneliness negatively impact health, especially as we age. Health conditions that once required only occasional attention become more present and chronic.
Studies have demonstrated that individuals who suffer from isolation and loneliness are at increased risk for heart disease, stroke, and death. Seniors who feel isolated are more susceptible to "brain health" conditions related to Alzheimer's and dementia.
Increases in senior isolation and loneliness have become a silent plague that not only affects their emotional well-being, but also threatens to diminish their health and shorten their lives.
Reaching out to seniors this Christmas.
You and your family can start a tradition of reaching out to seniors this Christmas. Here are a few examples of what you can do to brighten the holidays for a senior near you:
1. Visit a senior several times during the holidays. When you do, make a point of actively listening when they want to talk, even if the discussion seems discouraging or negative.
An honest and empathetic conversation can help that person process what is bothering them. They may be mourning a loss or contending with health issues or other life challenges.
2. Recognize and remind your seniors of their importance in your life, their family, and the community at large.
Many feel useless if they cannot contribute or fully participate in holiday activities as in previous years. Encourage them to do what they can to enjoy the holidays safely. Offer or help arrange for any assistance they may need (transportation, mobility, etc.)
3. Don't act as though what you do for them is done out of a sense of duty. Be gracious in your efforts. You want to show them they are valued, respected, and appreciated.
4. Help them decorate for the holidays, whether at their home or in their room if they are in a care facility. Consider decorating in stages. This will improve their ability to enjoy participating in the activity and give them something they can look forward to during the holidays.
Ensure that the decorations you use do not present a safety hazard.
5. Many seniors enjoy reflecting on past holidays. If you have an opportunity, be sure to listen to their stories and ask questions. These stories, and your willingness to listen, provide them with a special moment to honor the memories they cherish most.
The time you spend with a senior is a gift.
The most important thing you can do to combat senior isolation and loneliness is to reach out to the seniors in your life and community. Spend time with them in a safe way and let them know they are appreciated and included this Christmas season.
Look at family photos, watch home videos or holiday movies, listen to seasonal music, enjoy snacks, or do crafts together. Invite them to tell you about the Christmas memories they cherish most. You will likely make more memories, and maybe even a friend, in the process.
This holiday season, the Moultrie County Health Department encourages individuals and communities to reach out to those who may be struggling with isolation or loneliness. If enough of us take the time to see and connect with our seniors, we'll all be better for our efforts.
Share the gift of time – it's priceless.