The MCHD Supports Moultrie County's Food-Permitted Events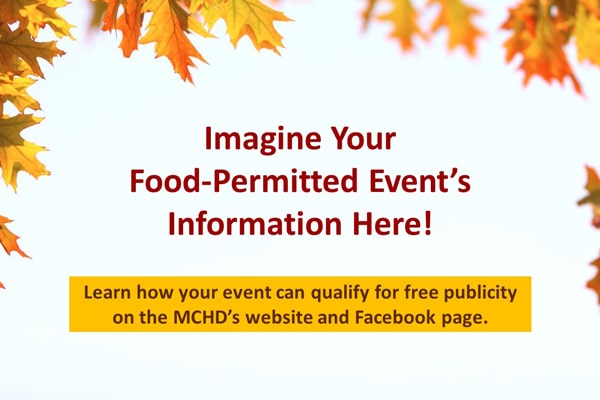 Learn how food vendors and event organizers qualify to receive free online publicity once their temporary food permit is issued.
Promotional support for food-permitted events.
Temporary food permits are more than just a regulatory requirement. They represent the capacity and intent of food vendors and event organizers to safeguard public health and foster trust within the community.
The Moultrie County Health Department (MCHD) appreciates the opportunity to facilitate the safety and success of all food service vendors in Moultrie County. As a result, the MCHD has initiated a new program to promote permitted events on its website and social media platform.
Food safety standards: A shared commitment.
The MCHD is committed to ensuring public health for all Moultrie County's residents and visitors.
Likewise, our office also respects the dedication of the temporary food service vendors who work with us toward this common goal.
The MCHD's new online advertising initiative is our public acknowledgment of their efforts.
How does the free online advertising program work?
The MCHD's free online advertising program is designed to offer event organizers a platform to showcase permitted temporary food service events. Here's how it works:
A timely application is required:
To qualify for this free advertising, event organizers must submit their temporary food service permit application and fee at least 4 weeks before the scheduled event. This ensures the MCHD has adequate time to process the application and effectively promote the event.
An initial listing on Moultriehealth.org:
Approved events will be featured on the Events page of Moultriehealth.org. This calendar webpage is one of the most popular destinations on the MCHD's website and increases visibility for your event.
A dedicated "Read More" page for event details:
Each temporary food service listed will include a link to a dedicated "Read More" page. This page provides more detailed information about the permitted event. Food vendors and event organizers can also submit an image or flyer with event information to enhance their event promotion.
The MCHD respectfully reserves the right to edit, omit, or decline to publish content not appropriate for or usable on its website.
An appearance on MCHD's Home page:
As the event date approaches, the listing will also be promoted on Moultriehealth.org's Home page, the most visited page on the website, generating even more event exposure.
A feature on the MCHD's Facebook page:
Additionally, the MCHD will feature the event on our Facebook page approximately five business days before the event. Our Facebook page has nearly 1,900 followers and a monthly reach exceeding 2,500 Facebook users.
We encourage food vendors and event organizers to provide us with an image or photo to use with this feature. The photo or image will link directly to the permitted event's "Read More" page on Moultriehealth.org.
Additional feature appearances:
The Facebook feature will also appear on our website's Home page and the News page, ensuring that each qualifying permitted event gets ample online exposure.
Take the first step to initiate this opportunity.
The MCHD's initiative to support permitted events through free online advertising doesn't merely benefit food vendors and event organizers. It also highlights their commitment to public health and recognizes the dedication of those who work together to make our local communities safer.
If you're a food vendor or an event organizer in Moultrie County, we encourage you to submit your Temporary Food Service Permit application early and take advantage of this opportunity. Doing so will not only secure your temporary food permit but will also help you gain valuable exposure for your event.
Remember, downloading the application here is your first step toward obtaining your Temporary Food Permit. Submitting the completed form and fee to the MCHD at least 4 weeks before the event is your ticket to free advertising.
Feel free to contact the MCHD if you have any questions concerning the Temporary Food Permit application or free online advertising initiative.
The MCHD wishes all our temporary food service vendors a safe and successful event.