The Farmers' Market Nutrition Program 2023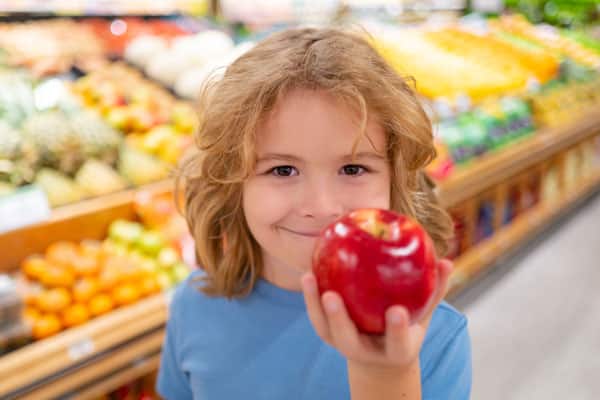 How does this program benefit eligible families, seniors, farmers' markets, and the Moultrie County economy?
What is FMNP?
The Farmers' Market Nutrition Program (FMNP) is currently available in Illinois through October 2023. The Moultrie County Health Department (MCHD) is pleased to share how our county residents benefit from this vital program.
The FMNP provides coupons for fresh produce to eligible participants. When people with FMNP coupons use them at farmers' markets, it helps FMNP participants, market vendors, and the local economy.
Who can participate in the FMNP?
Individuals participating in the WIC program are automatically eligible to participate. Moultrie County participants can obtain FMNP coupons at the MCHD.
FMNP coupons are also available for Moultrie County seniors. Individuals 60 and older who are income eligible can receive FMNP coupons at the Mid-Illinois Senior Services (formerly Moultrie County Senior Center) in Sullivan, IL.
How does FMNP help families, seniors, and farmers?
FMNP gives families and seniors affordable access to delicious and healthy fruits and vegetables. Additionally, the MCHD can suggest resources on how to prepare and use the produce sourced at local farmers' markets.
Furthermore, the program incentivizes more people to attend farmers' market events. As a result, participating vendors have an opportunity to sell more produce.
When and how can you use FMNP coupons?
Beginning July 10 through October 31, 2023, you can use your FMNP coupons to buy fresh produce from participating vendors at farmers' markets throughout Illinois.
Not all vendors accept these coupons, so look for signs at Farmers' Markets that say "Farmers' Market Checks Accepted Here."

Only one book of coupons can be issued per participant. Therefore, keeping them in a safe place until you are ready to use them is essential.
If you can't go to the market, someone else can use your coupons if you have selected them as your proxy.
FMNP coupons cannot be used to pay sales tax.
You will not receive change back or a credit if your purchases do not meet the value of your coupon. Participants are encouraged to purchase eligible foods using the total amount on the coupon.
Purchases that exceed the value of the coupon are the responsibility of the person making the purchase.
What foods are eligible for purchase with FMNP coupons?
Fresh vegetables
Fresh fruits
Cut herbs
Honey (seniors only)
Unfortunately, any food item that is not sold as fresh, or is processed in any way, cannot be purchased with FMNP coupons. Eggs are also not allowed.
A detailed list of foods allowed for purchase with FMNP coupons can be found at Moultriehealth.org or picked up at the Moultrie County Health Department.
Why is the FMNP important to Moultrie County?
The FMNP's primary purpose is to improve the nutrition of WIC participants (pregnant women, infants, and children to age 5) and seniors (age 60 and over). The FMNP also functions to:
Promote healthy eating habits.
The FMNP encourages participants to incorporate more fruits and vegetables into their diets, which supports healthier eating patterns.
This can have long-term effects on health and well-being, including a lower risk of chronic diseases.
Support local farmers, growers, and participating vendors.
The program supports local farmers and other producers by creating a direct market for their products. It also supports local economies while providing consumers with fresh, locally sourced food options.
Offer consumer health education opportunities.
FMNP programs include educational components that provide participants with nutritional information. Such information includes cooking techniques and the importance of consuming a variety of fresh fruits, vegetables, and herbs.
Support health improvements.
By increasing access to fresh and nutritious foods, the FMNP can improve health outcomes, particularly for WIC participants and seniors who might otherwise have limited access to such foods.
Where can you get more information about the FMNP?
If you're a Moultrie County resident, contact the MCHD (217) 728-4114 and ask for the WIC office.
If you are already a WIC participant, the MCHD can help you to get FMNP coupons. If you are not currently participating in the WIC program, the MCHD staff would be happy to help you discover whether you are eligible.
If you're a senior, age 60 and older, contact the Mid-Illinois Senior Services at (217) 728-8521 for eligibility information.
Farmers interested in selling produce through the FMNP program are encouraged to contact the MCHD at (217) 728-4114. You can also contact the Illinois Department of Human Services (IDHS) at (217) 782-2166 or 1-888-261-2713 (NexTalk). IDHS also provides an FMNP guide online.
If you have questions about Illinois Department of Human Services (IDHS) programs, call the automated helpline 24 hours a day at 1-800-843-6154 and 1-866-324-5553 (TTY).