The Importance of Temporary Food Permits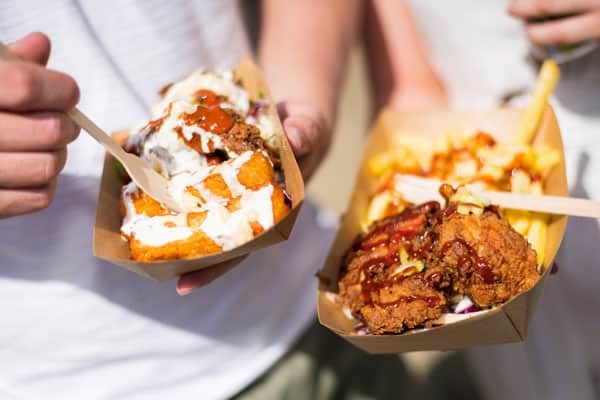 How does this permit process benefit Moultrie County residents, local events, organizations, and vendors?
The MCHD and temporary food permits.
The significance of food sanitation and safety cannot be overstated when local events offer good food and bring communities together. Whether it's a farmers' market, a festival, or a charity event, the food served holds the power to create memorable experiences.
This is where the Moultrie County Health Department (MCHD) plays a pivotal role.
As a certified health department in the State of Illinois, the MCHD safeguards public health by ensuring all food service events adhere to the food safety standards set forth by the Illinois Department of Public Health (IDPH) and the U.S. Food and Drug Administration (FDA).
Food safety and public health protection.
Completing a Temporary Food Permit might seem like another tedious bureaucratic procedure. However, these permits provide public health officials with the information necessary to ensure the vendor's and consumer's best interests are served.
How do temporary food permits benefit Moultrie County residents?
Upholding Food Safety Regulations:
When issuing Temporary Food Permits, public health staff review everything from verifying all food comes from approved food sources to confirming that vendors can maintain proper food handling and sanitation practices.
Ensuring Sanitary Conditions:
Sanitation is the cornerstone of safe food service. During the permitting process, food service providers are required to identify their ability to adhere to the food safety and sanitation standards applicable to their event.
Sanitation standards include an evaluation of the facilities and equipment, as well as personal health, hygiene, and food handling practices of individuals preparing and serving the food.
This attention to cleanliness minimizes the risk of food contamination and further protects vendors and consumers from the liabilities and personal health impacts associated with foodborne illness.
Prioritizing Safe Food Handling:
Obtaining a Temporary Food Permit requires vendors to adhere to guidelines for maintaining foods at safe temperatures during storage, preparation, cooking, and serving. These guidelines also require food service staff to use safe food preparation and handling practices.
The proactive approach of the permitting process assists vendors in effectively planning for a safe food event. It also allows them to ask questions and address any concerns of the local health department.
Ultimately, the Temporary Food Permit process results in positive outcomes for the vendor and the public.
How do Temporary Food Permits benefit local events and vendors?
Establishing uniform standards:
Temporary Food Permits represent a commitment to uniform food safety standards across various temporary food events and vendors.
These standards require that all food service organizers and vendors adhere to the same basic rules and regulations that protect the public's health, regardless of the event's size or location.
Ensuring Compliance and Accountability:
Temporary Food Permits act as a bridge between vendors, event organizers, local health departments, and state regulations for food and public safety.
In many areas, including Illinois, obtaining a permit for a temporary food service event is a legal obligation. Non-compliance with temporary food permits and safety standards can lead to fines, penalties, or even event shutdowns.
Building public trust:
Acquiring a Temporary Food Permit is a declaration by the vendor of their commitment to public safety and health. Eventgoers can enjoy their food experiences, knowing it has been handled and prepared by individuals who have agreed to comply with food safety standards.
A properly posted Temporary Food Permit can encourage public trust in the operation and potentially increase revenue for the vendor.
Enhancing the event's reputation:
A well-organized and hygienic food service operation enhances the event and the vendor's reputation. Conversely, reports of suspected foodborne illnesses or unclean conditions can tarnish an event's image and harm the reputation of vendors and event organizers.
How does the MCHD support permitted events?
Temporary Food Permits are not only a requirement, but they're also a badge of honor for vendors and event organizers who value protecting the public's health and building public trust.
Likewise, issuing Temporary Food Permits is one more testament to the MCHD's commitment to the well-being of Moultrie County residents and visitors. We greatly appreciate all the food service vendors and event organizers who work with us in this effort.
The MCHD will promote permitted events online through its website and social media platforms. This free advertisement is another part of our effort to support local events, organizations, and vendors.
What are the initial steps in the Temporary Food Permit process?
If you are planning to hold a temporary food event in Moultrie County, Illinois, you must do the following:
This application is the gateway to the many benefits available to permitted food service events.
Applications should be received no later than seven (7) days prior to the event. However, if you want the MCHD to advertise your event, your application should be received no later than 21 days prior to your event.
Once your permit is issued, we'll announce your event on our Facebook page, submit an event listing on our website, and then feature it on Facebook several days prior to the event.
If you have questions concerning the temporary food permit process or need assistance completing the application, we invite you to contact the MCHD at (217) 728-4114. We are happy to assist you in making your event safe and successful.